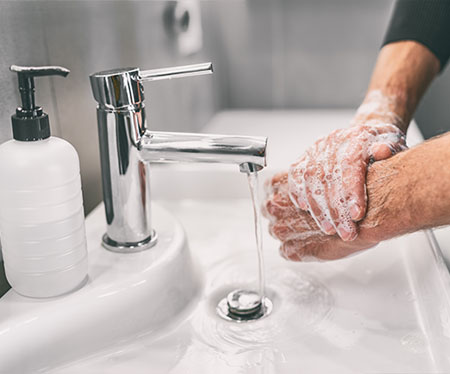 For more than two decades, dental practices have been required to practice cleaning and sterilization standards that are far above those required of just about every other type of healthcare provider.
Between sterilizing instruments after each use, wiping down rooms between patients, plastic shields on surfaces, and other precautions, a dental practice may be one of the safest places that you could be in a situation like this.
Our COVID-19 Safety Precautions
Considering recent events, we are going above and beyond the standards that we have always followed, to create an even safer environment for you in our practice. We have installed plexiglass barriers in the front office to ensure your safety when checking in and out for your appointment and air purifiers in all our treatment rooms to help cut down on aerosol producing procedures. We perform daily temperature checks on staff and fill out COVID-19 screening questions for symptoms prior to the start of each day. We contact all our patients before their appointment to ask health-related screening questions to make sure that they are in good health prior to their office visit. By doing this, we will be able to limit potential exposure in our office.
Our patient appointments are being managed in a way that allows for proper distancing between patient arrival times. We have hand sanitizers in the reception room and throughout the office for you to use, as needed. We have placed the chairs in our reception area six feet apart to maintain for social distancing if you must wait a few minutes to be seated with the doctor or with your hygienist. For the time being, we have removed magazines, children's toys and other items from our reception area which are difficult to clean and disinfect. Our reception area is being cleaned during the day to ensure that it is ready for the next patient who arrives. We have also invested in additional safety equipment for the practice; things like face shields, masks, hair covers, gowns and other equipment. This is all part of our effort to provide you with a healthy visit to our office.
Please keep in mind, dental health has a direct effect on your immune system, so this is something that you want to particularly take care of in times like this.
Frequently Asked Questions
What are you doing to keep me safe?
We have always had high standards of infection control; in addition, we are wiping down frequently touched surfaces and our reception room with a disinfectant that kills COVID-19 and other viruses. We also allow extra time in between patients for the rooms to sit un-occupied to allow the disinfectant to work and the aerosols to settle.
What are we doing differently than before?
We take our staff's temperatures each day before their shift and they answer screening questions. The clinical staff is wearing double masks, gowns, and head coverings. We have also added air purifiers throughout the office to reduce aerosols.
Do I need to wear a mask to my appointment?
Yes, we strongly suggest wearing a mask that you are comfortable with. If you do not have one or forgot it, one will be provided for you.
Do I need to wait in my car and call or text the office before coming in?
No, you may come into the office when you arrive for your appointment.
Why do I have to answer questions related to COVID-19?
The screening questions that we ask are designed to determine if you are at higher risk of contracting COVID-19 and help to decide if it is safe for you to come in or should postpone your appointment.
Why do you take my temperature?
Your temperature is taken as part of the screening process to ensure that you are in good health.
Can someone accompany me to my visit?
We would prefer only the patient come to the appointment due to limited space in the reception room. If you need extra assistance, you may bring one person to assist you.